Awards
Award Gloria Musaealis 2010
Podbrdské Museum in Rožmitál pod Třemšínem was awarded the Special Prize in the category "Museum Event of 2010". Praga Mystica was the chief creator of two new permanent exhibitions: "The Lords of Rožmitál" and "The Life, Times and Work of Baroque Composer Jakub Jan Ryba" (internationally famous for his Czech Christmas Mass), and was instrumental in creating a third permanent exhibition: "Life in the Podbrdsko Region".
On May 19, 2011 the results of the 9th annual awards of the Czech Association of Museums and Galleries national cultural competition Gloria Musaealis 2010 were announced in the representational chambers of the National Museum in Prague. The jury based their decision mainly on the innovative approaches of exhibit creators.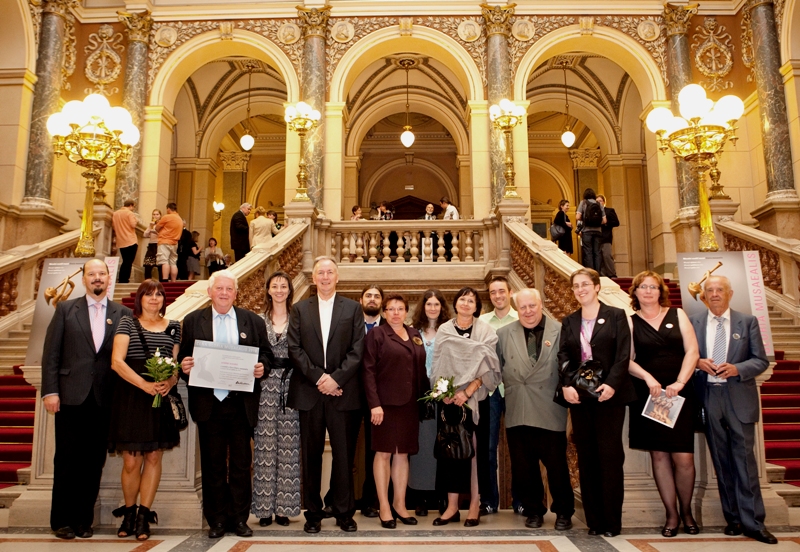 The event was attended by fifteen members of the creative team including
Zuzana Foffová and Bohumil Vurm of Praga Mystica.
Photograph: Petr Polák
More about Podbrdské Museum here
---
First Czech book on wine winner in Paris
The New Encyclopaedia of Czech and Moravian Wine is the first ever Czech book awarded by The International Organisation of Vine and Wine (OIV). On October 16, 2006, the book was recognised in the "Global Publication Concerning Wine" category at the OIV headquarters in Paris. The authors of the book, Vilém Kraus, Zuzana Foffová and Bohumil Vurm, were present at the event to accept the prestigious international prize. The award was presented by the chairman of the OIV jury H. E. František Lipka.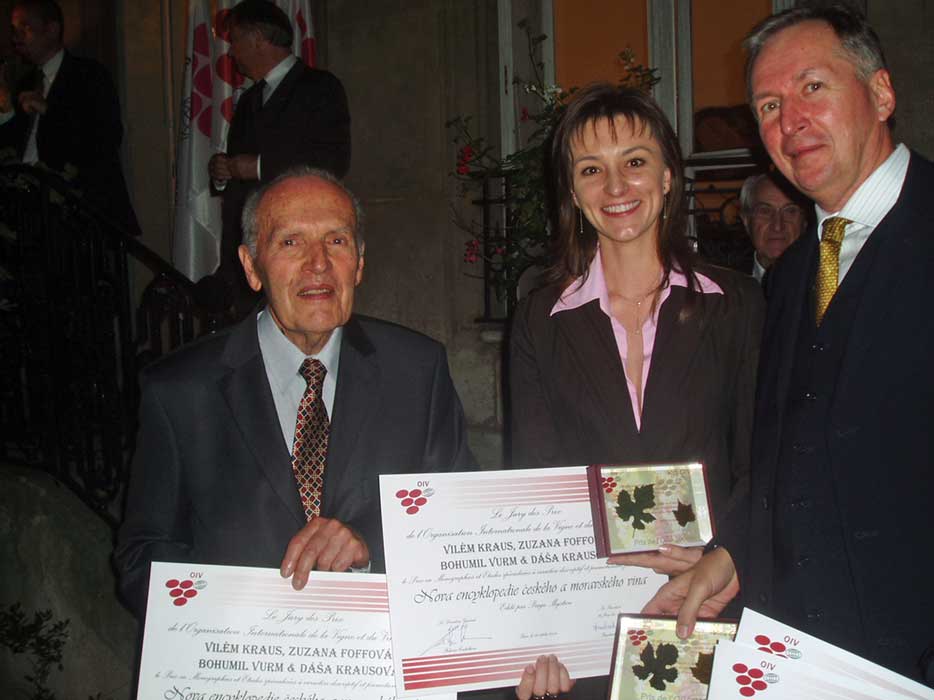 Six international wine-related publications were awarded on the occasion of the 2006 XIX International Congress of Vine and Wine. The New Encyclopaedia of Czech and Moravian Wine was unanimously selected in the "Monography and expert publication propagating the field of vine growing and winemaking" category. The encyclopedia was up against books from traditional wine-producing countries such as France, Spain and Italy in the same category.
The publications are judged by experts from all over the world (university professors, journalists, scientists, historians etc.) on basis of their original content.
During the visit, the authors of the winning book were received by H. E. Pavel Fischer, Czech Ambassador to France.